Big Spring Canyon – Elephant Canyon Loop
Friday – Sunday, November 30 – December 2, 2018
After looking over the official map for the Needles District of Canyonlands National Park earlier this year, I noticed that I had hiked just about every single trail on it, so I figured it would be a good goal to try and finish hiking them all this year. After hiking a few of those remaining trails earlier in the year, I only had a few segments of trails in the Big Spring Canyon area left, so Diane and I headed down to The Needles this weekend so I could finish them up in one big loop on Saturday.
We left after work on Friday evening and drove through a beautiful sunset as we left Grand Junction on our way to Utah. We made good time driving to The Needles this evening and traffic through Moab seemed to be much lighter than it has been for a while, so I think the busy season might finally be over! We arrived at the Squaw Flat Campground after dark and got our tent setup for the weekend. The temperature was in the 40's and actually quite pleasant this evening. Once the tent was up I was just about to get a campfire going when I saw a flash of light and then heard a rumble of thunder, seemingly from out of nowhere! Then all of a sudden a heavy snow started to fall from the sky and the lightning and thunder continued to get closer. We abandoned the idea of starting the fire at this point and retreated to the Jeep to watch this winter thunderstorm, or thundersnow! There were a few close lighting strikes, but the storm ended up not lasting very long. Once it the snow started to slow down we got into the tent and went to bed early.
After setting up our tent we watched a thundersnow storm from inside the Jeep.
Overnight we were awakened around 1:00am when it started to rain again and the temperature out started to noticeably drop. Since we knew things were probably going to be wet and frozen in the morning, we opted to sleep in a little later than normal. When we did get up shortly after sunrise we found that our tent was covered in ice. We waited until around 9:00am to start hiking so the snow and ice would have a little time to melt off the sandstone, but we also brought our microspikes with us, just in case. We started our loop from the nearby Squaw Flat Trailhead and followed Big Spring Canyon to where it crossed over a sandstone divide into the upper end of Squaw Canyon. From here we hiked the rest of the way up Squaw Canyon and then climbed up and down two ladders over a pass into Elephant Canyon. I had climbed up to this pass from the other side during our backpacking trip in March. We followed Elephant Canyon downstream a short distance and then hiked back to the trailhead on a sandstone ridge above Big Spring Canyon that was much more scenic than I expected it to be. After returning to our campsite we had dinner and stayed warm next to a campfire before going to bed early again. It was a great day!
Just another photo of our campsite the next morning just after sunrise.
There were amazing views once we crossed the sandstone divide from Big Spring Canyon to Squaw Canyon. These clouds were nice, but they didn't stick around very long.
Which way to go?
All the potholes in the sandstone were full of water from the rain overnight and melting snow and ice.
The trail goes through this hidden passage, but we actually missed it and followed a few cairns that climbed around it on a more difficult route. Once we realized our mistake I hiked back through the passage anyway, just to check it out.
Diane hikes ahead of me in the upper reaches of Squaw Canyon.
The first ladder we would climb up to get over the divide into Elephant Canyon.
Hiking down a short side-canyon to Elephant Canyon.
Ancient Handprints
Looking up into a big chamber.
I loved the unusual tafoni in this little alcove.
Looking down into Elephant Canyon as we climbed out.
Hiking through one of the many narrow joints in The Needles.
A group of needles in the distance as we hiked along the Chesler Park Trail.
The trail passed by a wide arch that framed the distant La Sal Mountains nicely.
Stone & Clouds
Climbing up to the top of the sandstone ridge above Big Spring Canyon.
Overhang Stripes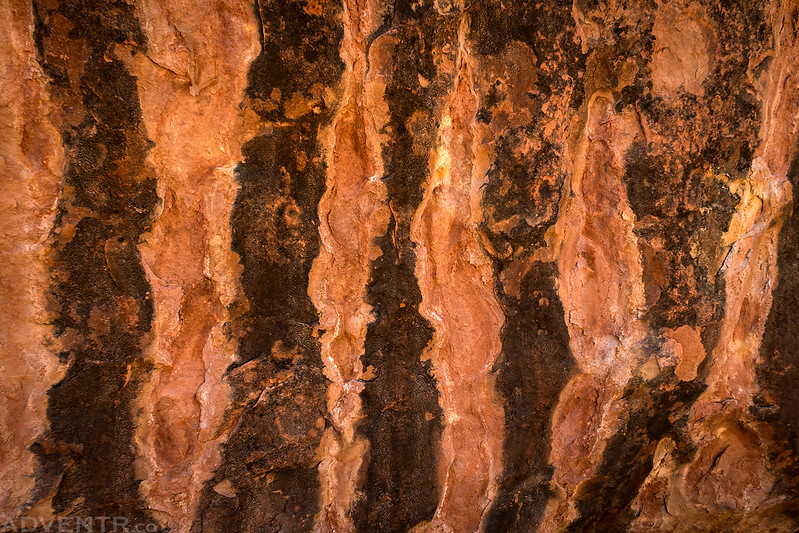 There were a lot more potholes filled to the brim with water up here!
Following this wide sandstone ledge back to Big Spring Canyon.
Almost back to Squaw Flat, and by this point I had just about accomplished my goal of hiking all the trails in The Needles! I only needed to hike the short connecting trail between the two loops of the campground.
There were actually some pretty great views from the short trail between the two loops of the campground!
A or B?
A view over Squaw Flat to North Six-Shooter Peak.
Junction Butte and the Island in the Sky to the north.
Based on the last weather forecast we had seen, we knew there was a 50% chance of snow after midnight on Sunday. I woke up a few times overnight and never saw it snowing, so I figured (hoped) that the storm had probably missed us. But a couple hours before sunrise we heard the snow start to come down as it landed on our tent. When we got out of our tent shortly before sunrise there was already about an inch of snow on the ground and it was still coming down pretty hard. We had planned to search for some possible rock art sites in the backcountry this morning, but the falling snow would have made exploring more difficult, so we decided to just pack up so we could drive home slowly on the slick roads. We already had a great weekend and didn't mind heading home early.
This was the weather we woke up to on Sunday morning.
Leaving Canyonlands during a snowstorm.
Low clouds and snow in North Cottonwood Canyon. There was actually less snow on the ground as we drove further up Indian Creek Canyon.
A winter wonderland along Indian Creek.
We stopped to check out Newspaper Rock in the snow as the sky was beginning to clear a little.
Although I drive by these petroglyphs all the time, it's been a while since I stopped to look at them.
A beautiful snow-covered view across the canyon from Newspaper Rock.
A few petroglyphs along the road where I stopped to see a couple historic inscriptions.
Leaving Indian Creek Canyon, just before the real fun of the weekend began…
As we were driving out of Indian Creek, slowly since the road was snow-covered and slippery, we heard a loud 'bang!' and the passenger rear side of my Jeep dropped a few inches. At first we assumed it was a flat tire and I pulled off to the side of the road to assess the situation. Unfortunately, it turned out not to be a flat tire, but the wheel studs had all sheared off and the wheel had come off! This exact same thing happened to me back in January! We did not have cell phone signal where were were, but we could have hiked a few miles to get signal and called AAA, but I'm pretty sure nowhere in Moab would have been open to fix it anyway, so before doing that I decided to try and fix it myself. Luckily, after this happened to me back in January I had bought a few extra wheel studs and lug nuts and kept them in the Jeep, just in case! I just hoped I had enough tools with me that would allow me to get the job done on the side of the road.
Something is not right here?
All five wheel studs are sheared off.
At least I had a nice view of Shay Mountain as I worked on the Jeep. Thankfully it had stopped snowing by now!
After removing the brake caliper and rotor, I was able to pound out four of the broken wheel studs with a little sledge hammer I usually keep in the Jeep and then was able to pull the new studs through by cranking down on a spare lug nut.
Not the best place to work, but because of the weather only one car would pass us while I was working. That person did stop and offer to drive us up to where we had cell signal, but we declined since I wanted to see if I could fix it myself first.
Four new wheel studs installed and ready to go again. Diane said it took me about an hour to get everything fixed. I did have a fifth wheel stud that I could have installed, but I would have had to move the Jeep a little to rotate the axle so I could install it, and I figured four was enough to get us back home.
After putting the rotor and wheel back on I really wasn't 100% sure if I had been able to pull the wheel studs all that way into the flange since I couldn't see them any longer, so I drove back home slowly, just in case. I never went more than 45 MPH since I really didn't want the wheel to come off again while I was driving 80 MPH! I also stopped about every 30 miles and made sure everything was still tight. Since the roads were still snow-covered for the most part, we didn't have too much traffic to deal with, but it was a much longer drive home than we are used to from here. As you can probably guess by reading this trip report, we did make it home safely. Now I just need to figure out what it causing this to happen to the rear passenger side wheel? Ever since this happened to me in January I have been extra careful about properly torquing the lug nuts, so I am pretty sure that is not the problem. I am guessing the axle shaft or flange might be bent and I have already ordered replacement parts.
Even though I have now hiked all of the 'official' trails in The Needles, I know that I will definitely still be spending a lot of time there since it's my favorite district of Canyonlands National Park (The Maze is a close second!), and there are a lot more backcountry areas to explore that don't have official trails through them!
>> End of Trails in The Needles Photo Gallery