Friday – Monday, March 9-12, 2018
Late last year as I was thinking about planning some of my 2018 trips that would require advance permits, I decided it was finally time to backpack into Chesler Park in the Needles District of Canyonlands National Park. I've day-hiked into Chesler Park a number of times over the years from the four-wheel drive trailhead of the Joint Trail, but this time I wanted to backpack in so I could spend more time exploring the area and hopefully photographing this beautiful area at sunrise and sunset. Of course, planning a trip this far out in advance is like playing the lottery with the weather, especially in early to mid March on the Colorado Plateau, so as the dates of the trip approached I kept a close eye on the weather and hoped for good conditions.
As our dates in early March approached, I was worried that it might be colder out than I would have preferred, but the weather turned around shortly before our trip and it looked like the temperature and weather was going to be perfect for our first backpacking trip of the year! We left after work on Friday afternoon and headed straight down to The Needles with only a quick stop in Moab for dinner and fuel. We quickly found a campsite along the Lockhart Basin Road just outside of the park, setup our tent and went straight to bed. The temperature overnight was very comfortable and it never got too cold out.
We woke up with the sunrise on Saturday morning, packed up camp and drove into The Needles where we made a quick stop at the Visitor Center to check on the weather one last time before heading out into the backcountry for three days. The weather forecast was calling for a possible 20% chance of rain or snow on Sunday with highs in the 60's and lows in the mid-30's. That sounded like pretty nice backpacking weather to me! We finished the drive to the Elephant Hill Trailhead, made sure everything we needed was in our packs and then we set out on our short hike across Elephant Canyon to our campsite in Chesler Park at CP1. Since we knew there would be no water in Chesler Park, we made sure to to carry all we would need for the first day and night of our trip, so our packs were a little bit heavy. When we arrived at CP1 we got our tent setup, had a little lunch and then finished hiking the complete Joint Trail Loop during the remainder of the afternoon. It sure felt like I was just here?
After leaving the Elephant Hill Trailhead we hiked up the stairs inside this narrow joint to start our adventure.
As usual, there is beautiful desert scenery all around in The Needles.
Hiking down another narrow joint as we started the descent into Elephant Canyon.
A beautiful view as we climbed up the pass into Chesler Park.
We got our tent setup in CP1 right away so we could continue on our day-hike of the Joint Trail Loop.
Following the trail around the perimeter of Chesler Park.
Chesler Park Needles
After hiking down into Chesler Canyon, Diane spotted this gate along the old road that used to go into Chesler Park. I hiked up the old road cut to check out the gate and continued a little past it.
It's been a few years since I drove on this road. I think I will have to try and change that later this year…
Hiking through the Joint Trail again. My second time within the last month.
Diane hikes ahead of me through the narrow slot.
After climbing out of the joint, we found ourselves back in Chesler Park again.
On our way back to camp we made a short detour to visit an old cowboy camp.
Apparently Silver Dick was here in 1924.
As we were leaving the cowboy camp, the clouds were looking pretty nice. I was hoping they would stay like this for sunset, but that didn't happen.
Diane hiking back to our campsite at the east end of Chesler Park.
The view from right behind our campsite was pretty spectacular!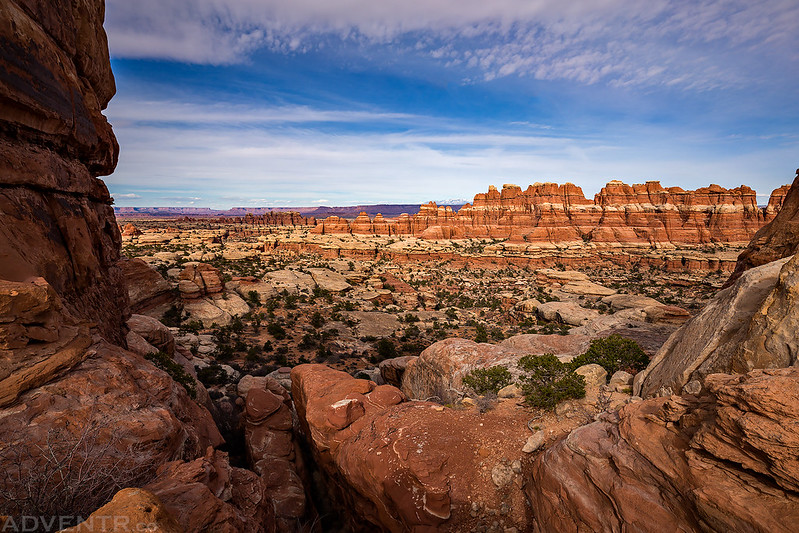 Before going on this backpacking trip, I made sure to tell Diane about the story from a member of BackcountryPost who had his food raided at the CP1 campsite by a pair of ravens. We took extra precautions to make sure this would not happen to us. All of our food was kept in a Ursack which was either with us or tied to a nearby tree when we weren't using it. After dinner we were both looking forward to trying out some freeze-dried Cheesecake Bites for dessert, so Diane got them out and set them on a boulder underneath another bag for a minute while she went over to the tent to get something. When she came back, the package was already gone and we found a pair of ravens feasting on our dessert on top of a nearby boulder that was inaccessible to us.
If you look very closely at this photo, you can see one of the cheescake bites in the beak of the raven on the right. I hope they were delicious!
Later that evening there was a little breeze that blew down the empty package off the boulder, so at least we were able to pack out the trash…
After dinner I hiked back to the Chesler Park Overlook near The Joint Trail in hopes of a nice sunset, but it was just too cloudy and overcast this evening.
My view from the overlook at sunset just before calling it a day and heading back to camp.
It was very calm and quiet all night in Chesler Park. There was absolutely no wind out and the temperature stayed pretty warm overnight. I slept pretty well, but I did get a little warm in my sleeping bag, which might be contributed to my new sleeping pad. The Daylight Savings Time change happened overnight, but it hardly matters when you are sleeping through ten to eleven hours of darkness at night after a long day of hiking and your only care in the world is about when the sun will rise and set. It's a great way to handle the time change without even noticing it.
We woke up on Sunday morning to overcast and cloudy skies. I didn't think there was any chance of there being a sunrise, but there was a brief minute or two when a little light struck the top of a few of the surrounding spires. After taking a few photos of the light we packed up camp and stashed our big backpacks so we could go on a morning hike of the Devils Kitchen Loop Trail (Devils Pocket Loop), which is one of the few remaining official trails in The Needles that I hadn't hiked yet. It was a pretty great trail with awesome views all around, but the overcast skies didn't really allow for good photos, so I will definitely need to return again under better conditions.
There wasn't much of a sunrise on Sunday morning, but a little light did strike the top of a few of the needles.
Diane stopped to check out the view over the Devils Kitchen Loop from Chesler Park Pass. We would be hiking around that group of pinnacles in the distance.
Here's a closer look of those pinnacles from the trail.
Following the trail to the Devils Kitchen.
We stopped to visit a pair of faded Barrier Canyon Style pictographs that I had found a few years back.
Diane along the trail.
After returning to Chesler Park we grabbed our big packs and started the hike down to our next campsite in Elephant Canyon. We weren't sure how much water we were going to find in the canyon, so when we came across a pool of water shortly after leaving Chesler Park, we stopped and filled up, just in case. It turned out that there was plenty of water in Elephant Canyon, including a nice pool right by our campsite. Better safe than sorry, I guess…
Diane stops to take in the view from the overlook. Our next campsite is located down below.
Along one part of the trail into Elephant Canyon, there were these long tunnels under narrow joints that the trail passed by.
The view from the bottom of Elephant Canyon.
We got our tent setup at EC3 and then relaxed around camp for a while.
I went on an evening hike to get a closer look at this ruin we had passed earlier in the day.
While exploring the area I also found a shelter containing a few pictographs.
This white and yellow man was painted near the very top of the shelter and I almost missed it.
I left camp later in the evening and went on another hike up a side canyon shortly before sunset. Unfortunately, as sunset approached the blue skies began filling up with clouds again. A common theme this weekend…
A tall ladder along a trail that takes you out of Elephant Canyon and over a pass into Squaw Canyon.
There was a pretty great view from the sandstone pass above the ladder. I could even see North Six Shooter Peak in the distance.
On my way back to camp there was a brief few minutes of light on the sandstone above me.
Nice light on the sandstone above camp.
A little color on the needles above our campsite at sunset.
Elephant Canyon Afterglow
On Monday morning we woke up about an hour and a half before sunrise after a colder but still comfortable night in Elephant Canyon, quickly got ready and started hiking to Druid Arch in the dark. The sky was finally clear after a weekend of cloudy skies and we could clearly see all the stars in the sky above. I had hoped to make it to the arch in time to see the pre-sunrise glow, but I missed the trail where it climbed out of the canyon onto a ledge and instead we continued on to a big pool under a pour-over where we had to turn around, backtrack down the canyon, and then continue the right way. After this wrong detour we made it to the arch shortly after sunrise, but the light was blocked by the high cliffs to the east so we would not see it illuminated today. I guess I'll have to return again and try another time for a good photo.
The view down upper Elephant Canyon from near Druid Arch never disappoints!
Of course, Druid Arch is also very impressive.
Hiking back to camp through upper Elephant Canyon.
We returned to camp in the light and packed up our gear so we could hike back out. It was an easy and short hike back to the trailhead and we arrived at noon. We never did have any precipitation during our entire trip and the weather conditions were pretty great for backpacking and hiking, but not really that good for photography. We stopped for an early dinner in Moab and then finished the drive back home. It really was a great first backpacking trip of the year!