A Return to Petrified Forest National Park
Sunday & Monday, May 16-17, 2021
After an amazing Saturday checking out the ruins and rock art of the Ute Mountain Tribal Park we were now planning on spending the next two days digging deeper into the backcountry of Petrified Forest National Park. We had such a great time exploring the Petrified Forest last February that we couldn't wait to get back for some more! Of course, we would have preferred to come back earlier in the year when it's a bit cooler out and less crowded, but this would probably be our only opportunity this year, so we jumped at it. Since the park does not open until 8:00am we had time for breakfast in Holbrook before heading to the southern entrance of the park and arrived just a few minutes before they opened for the day.
Once the gates opened our first stop was at the Rainbow Forest Museum so we could obtain a backpacking permit for the night. Since the park opens up after sunrise and closes well before sunset, this would finally give me an opportunity to photograph in the park at those times, plus it would give us extra time to continue exploring the backcountry after the park closed. We ended up getting a permit for Zone 1 within the northern Wilderness Area of the park. With our camping plans for the night now squared away, it was time to go on our first hike in search of Petroglyph Canyon.
Walking across the badlands on our way to Petroglyph Canyon.
We found quite a few petroglyphs in this area, although the light wasn't great for taking photos of most of them while we were there. I guess that means we will have to stop by again on our next visit to the park!
I'm not even sure what kind of creature this is supposed to represent?
This fractured boulder has a nice line of sheep petroglyphs on it, along with a couple of hunters with bows and arrows.
Stick 'Em Up
Broken Man
After hiking back from Petroglyph Canyon we spent the early afternoon slowing driving north through the park and stopping to visit a couple of the areas that were closed for road construction during our visit early last year, which included the Crystal Forest, Jasper Forest Overlook and Agate Bridge. All of these areas were a bit busier than we liked and it was getting warm out, so we didn't stick around too long at any of them.
Crystal Forest Petrified Log
Crystal Forest Petrified Wood
Jasper Forest Overlook
Agate Bridge
Since the park was getting too warm and busy for our tastes in the afternoon, we headed back to Holbrook for a late lunch and to get a few supplies from the grocery store while we were in town. We then returned to the Painted Desert Inn later in the afternoon to pack up our backpacks and set off into the Petrified Forest Wilderness Area to find a campsite for the night. It was all easy hiking as we followed Lithodendron Wash until we reached the boundary of the Zone 1 camping area. We found a spot to camp, but it was way too windy to set up the tent at this time, so we left our camping gear there and headed off in search of some more petroglyphs before sunset.
Walking past the Painted Desert Inn before descending from Kachina Point into the Painted Desert.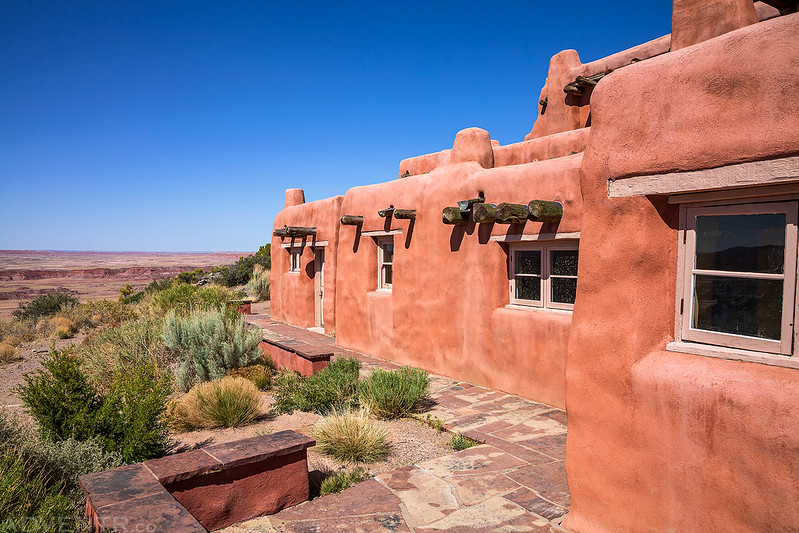 Searching the mesa edges for petroglyphs…
We hiked a bit further than I had planned, but just before giving up and turning around we found what we were looking for!
Three pieces of a pot.
Hidden Circles
There were a lot of great potsherds around.
This was a very nice petroglyph panel up near the point.
Here's a closer look at the petroglyphs.
Unfortunately, we couldn't spend too much time exploring the area since it took us longer to find it than I thought and we still had to hike back to our gear and set up camp before it got too dark out. We will definitely have to return to this spot another time.
The warm evening light on the hills was looking nice as we hiked back to camp just before sunset.
Pintado Point viewed from Lithodendron Wash.
Diane in Lithodendron Wash at dusk just before returning to our campsite.
We quickly got our tent set up while there was still enough light out. Thankfully the wind had died down at sunset and the rest of the night would remain calm. It was perfect camping weather!
I woke up early on Monday morning to catch the sunrise while Diane slept in for a while longer.
It was a very nice morning in the Painted Desert!
Lithodendron Wash
Little Balanced Rock
I climbed up to the top of the little mesa behind our campsite to check out the surrounding views.
Looking down to our tent. Diane was still in there sleeping.
When I returned to camp, Diane got up and we broke down camp and hiked back out so we could beat the heat. Then we drove back into the heart of the park so we could search for some more petroglyphs this morning.
Walking among the clay hills in search of petroglyphs…
After hiking along the base of a mesa for a little while I was starting to think we wouldn't find any petroglyphs here, but then we spotted this boulder and knew we were on the right path! After passing this boulder we found quite a few other amazing panels.
Tilted Slab
Although this is not a big elaborate panel, this was one of my favorite finds of the day. Look at the toes on these elk!
Family of Five
You don't find too many footprint petroglyphs that are anatomically correct.
These old petroglyphs were buried in the tumbleweeds.
I think this might be the largest Claret Cup Cactus I have ever come across.
If I hadn't decided to climb up to the big Claret Cup Cactus above, I might never have found these amazing petroglyphs nearby!
Lone Lizard Man
Upper Boulder Panel
Round Design
Gold Disk Boulder. This was the absolute highlight of the day. These petroglyphs were huge!
The sky was filled with nice clouds as we hiked back to the Jeep.
Unfortunately, I started to not feel very well during the hike out and it took me a while to make it back to the Jeep. Our original plan was to head east on I-40 to El Malpais National Monument and then find a place to camp for the next couple of nights, but since I was not feeling well I thought it would be best to get a hotel room in Grants for a night to make sure I was feeling better for the rest of the trip.