Memorial Day Weekend | Saturday, May 29, 2010
On Saturday morning we headed out on our annual Memorial Day weekend trip to the Comb Ridge and Cedar Mesa area in Southeastern Utah. As usual, we would be meeting up with our friend Jared for the weekend and heading out to find some ruins.
After the drive down to Comb Wash and setting up camp, we headed out to check out some ruins that Jared had spotted along Highway 95 not too far from camp. We parked off the highway and made our way to the rim of the small canyon where we quickly spotted the ruins. We had to hike down the rim of the canyon to reach the bottom so we could hike back up a little bit in order to reach them.
We then hiked up canyon a little further and found a few petroglyphs.
After checking the ruins out for a bit (and getting eaten alive by some small bugs) we made our way over to the Butler Wash Road and headed south to the trailhead for the Double Stack Ruins.
Along the way into the canyon that cuts it's way into Comb Ridge, we passed a couple of sweat houses.

After heading up the wrong canyon fork, we ended up on the canyon rim above the ruins we were searching for…..but it's OK, the view was nice

So we headed back down and went up the proper canyon. The upper ruins were perched high on this ledge, with no way for us to reach them.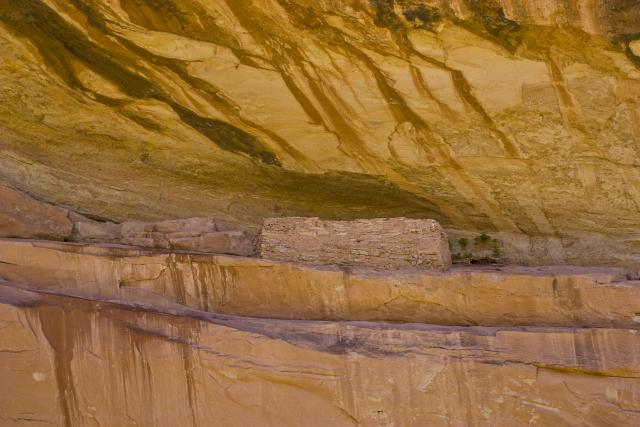 So we spent some time exploring the ruins at ground level.
We found a bunch of hand prints.

After we made it back to the Jeeps, we headed a little further south to the Hobbs Wash Ruins….but unfortunately, I was unable to make the scramble down the cliff to the ruins….maybe another time….
After some dinner in Blanding we headed out to Texas Flat in search of some more ruins, but we were unable to find them. We did manage to find a ton of pot shards scattered on the ground, so we knew we had to have been pretty close. Before heading back to camp, we stopped at the Arch Canyon Overlook for sunset, but were a little too late (Cathedral Arch below).
Back at camp.

Stay tuned for Sunday and Monday!