Saturday, May 22, 2010
Since our original plan for the weekend was to go rafting near Glenwood Springs on Sunday, I ended up heading to Davis Canyon on Saturday to do some hiking and exploring. Unfortunately, because of the wind, our rafting trip on Sunday never happened 🙁
After driving up Davis Canyon to the Canyonlands National Park boundary, I parked my Jeep and hiked in. My first destination would be the Five Faces Pictographs. These pictographs are in amazing condition.
All five faces.

Below the pictographs on two sandstone slabs were ten large depressions.

After leaving the Five Faces, I backtracked a little ways down the canyon to check out this small, but well-preserved granary.

Next I headed back up the canyon for a ways to find two arches. First up was Pinyon Pine Arch.
Followed by Junction Arch.
After finding the arches, I made my way back down Davis Canyon, watching for more ruins along the way. I found a bunch of ruins, but most were not well preserved. Back near the park boundary, there was another granary in an alcove.
Headed back down Davis Canyon.

I stopped a little ways outside of the park to search for some more ruins, and found another nice granary.
After searching the area for more ruins, I headed to the Dry Fork of Lavender Canyon to find a few more arches. First I came across Beam Arch.
Headed up the Dry Fork.

Then I came across Garage Bridge.

Shortly after Garage Bridge, the road ended. From there I hiked another quarter mile to the Culebra Double Arches.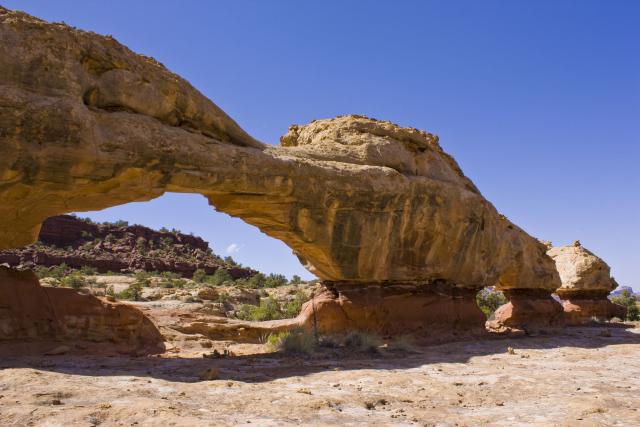 The smaller of the two arches.

On my way back out of Dry Fork, I spotted the last set of double arches that I missed on the way in; Dry Fork Double Arches. These were difficult to photograph as the sun was right above them, these would be better photographed in the morning, but I did what I could 😉

Headed back out of the Dry Fork of Lavender Canyon.

After heading back out of Lavender Canyon, I made my way to Monticello for some dinner and then headed home. It was a fun day, but pretty windy all day.