Southern Utah Wanderings | Backcountry Petroglyphs of Capitol Reef
Monday – Tuesday, October 1-2, 2018
After spending Sunday evening and Monday morning in Salt Lake City it was finally time to start my annual October trip to southern Utah. I planned on starting off the week by searching for some remote and little-known petroglyphs hidden in the backcountry of Capitol Reef National Park with my friend Jared. On our drive back from Salt Lake City, Diane and I stopped at Dennis' house in Price to pick up my Jeep. I had left my Jeep there on Saturday morning so we wouldn't have to drive both of our vehicles all the way to Salt Lake City and I wouldn't have to go all the way back home to Grand Junction to get it afterwards. From Price Diane headed back home and I made my way over to Torrey where I would be meeting up with Jared who had already been hiking in Capitol Reef all weekend. One nice thing about driving from Price to Torrey was that it finally gave me an opportunity to drive Highway 72 from I-70 to Loa through the eastern edge of Fishlake National Forest.
There were some pretty nice views from Highway 72 over to the Henry Mountains. I'll definitely need to come back to this area someday to explore some more!
I arrived in Torrey just after a storm had passed through the area and got everything wet. There was even a rainbow in the sky as I drove through town. I met up with Jared right after he had finished dinner and we drove over to the Torrey Trailhead on the Great Western Trail to transfer his camping gear into my Jeep and leave his car there. We would be driving some rough roads that required high clearance.
A nice view of the red cliffs just north of Torrey.
We didn't have too much time until sunset since I arrived later than I had hoped, but we drove the rough, bumpy and slow road to our intended destination and found a place to camp just after the sun had gone down.
I thought the clouds were too thick for a sunset this evening, but they did turn a nice magenta for just a few minutes. We quickly set up camp and went to bed.
We were expecting rain overnight and made sure to use the rainflys on our tents, but it never happened. It was actually a pretty calm night and I slept very well. We woke up at sunrise, broke down camp and then finished the drive down to the end of the bumpy road we had camped along. The roads in this area were pretty rough with a lot of loose rocks and boulders to drive over. They don't seem to see much full-sized vehicle traffic and are mostly used by ATVs, so they were also kind of narrow.
From the end of the road we started hiking down the slope toward the boundary of Capitol Reef National Park. The sky was cloudy and heavy rain was predicted from the remains of Hurricane Rosa, but we hoped that it would hold off for a while. It figures that right when we found our first petroglyph panel of the day it would start to rain, and then would continue for the next few hours of our hike. Unfortunately, the rain made taking photos of the petroglyph panels difficult since many of them were above us and when we pointed the cameras up, drops would get on the lens. The overcast lighting wasn't that great either. I guess that means I will definitely need to return for better conditions!
As we hiked into the backcountry of Capitol Reef National Park, we were actually surprised to find this entrance into the park. I do love finding old rarely-used backcountry entrances into otherwise popular parks!
The Lines Panel
Here's a well-executed petroglyph of a sheep that caught my eye.
Hiking under low clouds and overcast conditions all day.
Ever seen a jumping cactus? Well, these things were constantly jumping up and getting caught on our pants as we hiked through the backcountry. It wasn't very fun…
The Wheel Panel
Big Sheep Little Hunter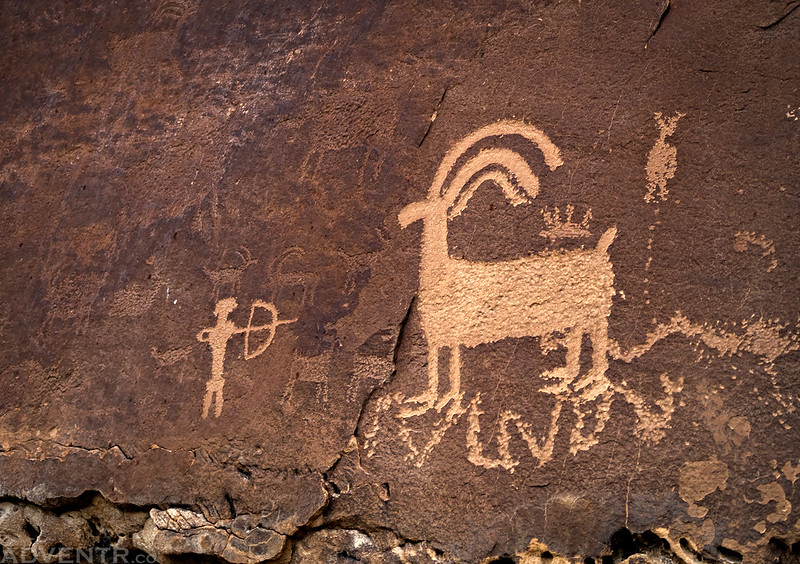 This was my favorite petroglyph panel that we found.
Here's a closer look at the best part!
Following a wash as we searched for more petroglyphs.
This old panel contains a lot of sheep petroglyphs! We found a lot of old petroglyphs in this area that were hard to see and photograph. If you go back and look at some of the previous photos on this page, you can see a lot of them.
The Curved Panel
This hard-to-see figure looks like it might be Barrier Canyon Style. At least I think so…
A closer look at another interesting figure.
Is this a bear or is it a cat? I can kind of see both depending on how I look at it. What do you think?
A parting view as we hiked back up to my Jeep. I think this would be a great place to photograph with better conditions. It was a pretty amazing place!
Driving back to Torrey through the clouds. It was a slow bumpy drive back to town.
After returning to town we picked up Jared's car and started our drive over to the Needles District of Canyonlands National Park where we planned to spend the rest of the week. It rained on and off throughout the drive, sometimes pretty heavily. Of course, we stopped for dinner at Pasta Jay's in Moab on our way since we wouldn't be leaving Canyonlands for at least four or five days. We arrived just outside the park well after dark and found a spot to camp along the Lockhart Basin Road. Thankfully, the rain had mostly stopped and I was able to setup my tent in a light drizzle and got to bed. Jared elected to sleep inside his car this night.