Sunday, September 25, 2011 | Average CFS: 2,950
After spending Saturday at Black Canyon of the Gunnison National Park and getting home later than normal again, Amanda and I woke just before sunrise so that we could watch the sun come up over the Grand Mesa from our hot tub. Once it was up, I had some breakfast and then met up with my friend Jackson so we could float a section of the Colorado River from the Palisade River Bend Park to Corn Lake. It's a shorter section of the river, but we didn't want to make an all-day trip out of it…..just spend a few hours on the river on a nice day. One of my main reasons for this trip was so that I could try out his new Aire Tributary Tomcat Tandem inflatable kayak since I am looking at buying one over the winter for next season. After spending the afternoon on his boat, I can safely say that I will probably be picking one of them up! It will make a great boat for day trips and overnight trips on easier stretches of river!
Relaxing in the front of the boat. Unfortunately, I guess I am too heavy to sit this far forward in the boat since I got wet from water coming up through the self-bailing floor. Jackson and I ended up switching seats a little ways down the river and we had no further issues with water coming up into the boat.

Relaxing by IntrepidXJ, on Flickr
Riffles in the river looking back towards the Little Book Cliffs.

Riffles by IntrepidXJ, on Flickr
Stopped so that we could change seats.

Quick Stop by IntrepidXJ, on Flickr
Jackson and his boat.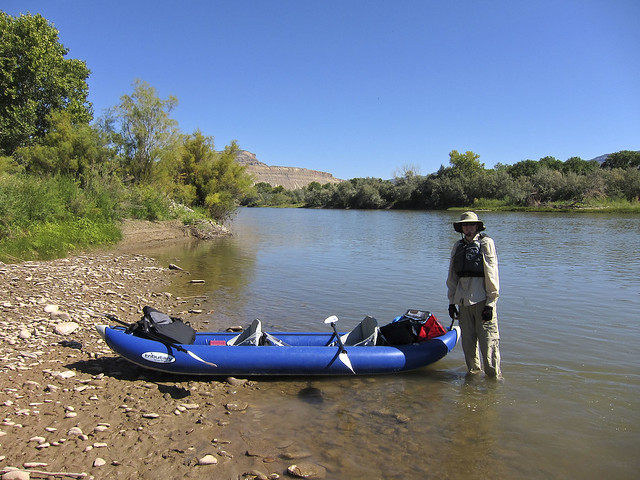 Jackson and his Boat by IntrepidXJ, on Flickr
View from the back seat.

Jackson in Front by IntrepidXJ, on Flickr
It's open burn season in Mesa County.

Smoke and Mount Garfield by IntrepidXJ, on Flickr
A view back towards Mount Garfield and Mount Lincoln.

Looking Back by IntrepidXJ, on Flickr