Sunday, November 15, 2015

A fascinating Barrier Canyon Style pictograph found along the Dolores River in western Colorado.
I decided last minute on Saturday that I was going to head down to Slick Rock Canyon of the Dolores River to try and visit a new pictograph site on Sunday. I texted Marty in the late afternoon to see if he was available to go with me. He was up for it, so we met just outside of Whitewater bright and early on Sunday morning to drive down to Big Gypsum Valley for the hike. On our drive along the Unaweep – Tabeguache Scenic Byway we caught the sunrise over the Dolores River near Uravan.
View over the Dolores River near Uravan, Colorado shortly after sunrise.
Another view over the Dolores River Canyon on our drive to Big Gypsum Valley.
Driving down Big Gypsum Valley towards the La Sal Mountains.
An unusual petroglyph panel found on a large boulder along the river.
I've known about the location of this pictograph panel for a long time, but I really wasn't sure if we'd be able to hike to it or if it would require a river trip to reach. I'd love to do a river trip down this section of the Dolores, but it's hard to schedule since the water is typically only high enough for a short time in the spring. I had scouted a possible hiking route on Google Earth to the site as best as I could, but there were still one or two sections in the canyon I wasn't quite sure we would be able to get past. There was possibility that the river was too close to the canyon wall and there would be no way to get through without getting wet, which we weren't prepared for on this trip. We decided to take our chances and see if we could make it.
The hike started out easy enough on a good trail along the Dolores River as we entered Slick Rock Canyon, but the trail would soon disappear and we were left scrambling over boulders and the loose talus slope between the steep canyon wall and the river. It's wasn't too difficult, but it slowed us down from our normal hiking pace. When we reached the main section that I was worried about being passable, it looked like I might have been right and our progress would be stopped. As we followed a narrow ledge sandwiched between the cliff and the river, it abruptly ended with no way for us to get down. I was almost ready to give up and turn around, but then I noticed a small crack to my left that I decided to squeeze through and see where it went. To my surprise, it led into a small passageway that dropped down in between the sandstone ledge we had been hiking on and the canyon wall, and it allowed us to reach the ground again to continue on! This little passage looked like it might fill up with water when the river is higher, but we didn't have to worry about that today with the low flow.
Though I was happy when I realized that we would be able to get past this ledge section, my mood turned sour again when I saw the bushwhacking that lied ahead of us from this point. It was brutal! Some of the thickest vegetation that I have ever had to get through, plus some of it had sharp thorns. We had come this far and I didn't want to turn around now, so we slowly made our way through the dense vegetation against the canyon wall. It is because of this section I don't think I would ever do this hike again. If I ever return to this rock art site it will most likely be on a river trip!
Hiking into Slick Rock Canyon.
The narrow ledge we followed above the river.
Marty on the ledge.
Dropping into the narrow slot that allowed us to bypass the ledge that cliffed out. Since Marty sent me a few photos he took of me on the hike and I rarely ever post photos of myself on the blog, I'm going to include a few of them in this trip report. Photo by Marty.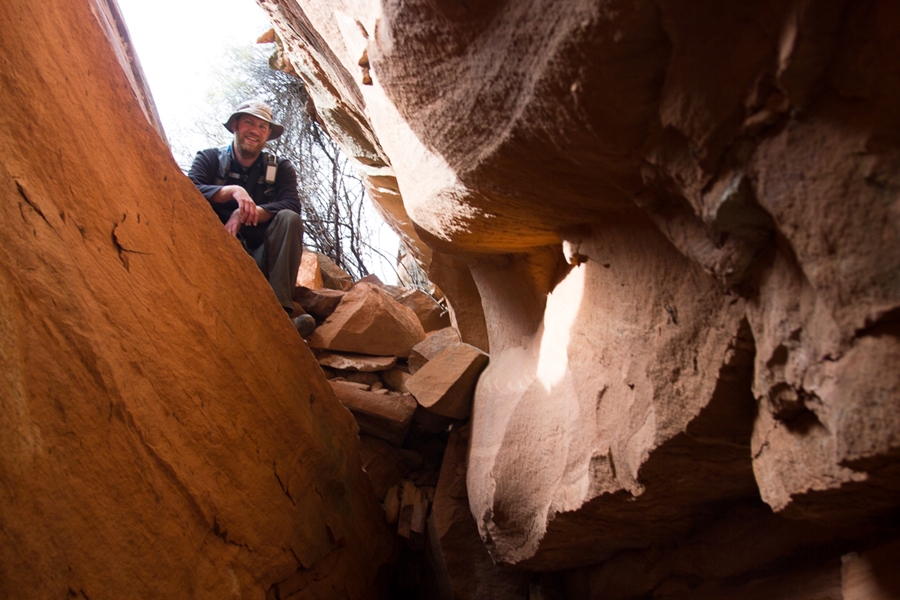 Staying close to the canyon wall to try and avoid the bushwhacking. Photo by Marty.
Marty under a short overhang that gave us a brief reprieve from bushwhacking.
After breaking free of the vegetation, we finally made it to The Rain Man pictograph.
Taking photos of the pictographs. Photo by Marty.
A tree growing in the alcove that the rock art is located in.
Unusual petroglyphs found in the same alcove that remind me of the other petroglyphs we had visited earlier in the day.
Lots of boulder-hopping and scrambling throughout the hike. Photo by Marty.
I had a little trouble with my hiking boots on this hike. Both of my boots opened up like this, but this one was a little worse than the other.
Beautiful Slick Rock Canyon during our hike back.
Marty on the bridge over the Dolores River after leaving the trailhead.
A nice view of the La Sal Mountains as we left Big Gypsum Valley.
Back to the highway that cuts across the large valley.
We stopped at one last petroglyphs panel along the Dolores River on the drive home.
There were even a few cottonwoods in the Dolores River Canyon that were still displaying their fall colors.