Saturday, April 24, 2009
For the final weekend in April we decided to head back to Moab. We were originally planning on checking out the car show, but after encountering the crowd and traffic that was present in Moab, we got out of town and stayed away as best we could. Many people complain about the crowds during EJS, but let me tell you….it's much worse during the car show. I will not be heading into Moab on the car show weekend again…
Anyways, let's get on with the trip report! On Saturday we left Junction bright and early and headed into Moab via the Gateway-Castleton Road, which was my first trip of the season using that route. We made out way north of town and setup camp in the Horsethief Campground. Once camp was setup we made our way out to Mineral Point.
View down on the Green River and the mouth of Hellroaring Canyon

Peeking down on the Green River

While searching for a geocache on the point, we came across this rock with a hole in it. Kind of a mini-arch. Amanda peeking through.
…and Amanda took this photo of me standing on it

After leaving Mineral Point, we headed for Bull Canyon. After I brought Amanda to the Gemini Bridges from above last year, she has wanted to see them from below. We were surprised when we reached the end of Bull Canyon to find that the branch of the canyon that contained the bridges had been closed to vehicles recently. I drove this section of the canyon back in 2006. Luckily, it was not a long hike, so we hiked to the head of the canyon.
Gemini Bridges

While checking out the Gemini Bridges it started to rain on us off and on. Some heavy rain and some drizzles. We headed back for the dry Jeep.
We headed out of Bull Canyon and took a short spur trail that led to the Surprise Overlook. This was a great viewpoint over Day Canyon.
While at the Surprise Overlook, we were treated to a small lightening show in the distance. I also spent some time photographing the water-carved sandstone where Bull Canyon pours over into Day Canyon.
On our way back along the Gemini Bridges Road, we took a short side spur that led to a rock spire named 'The Bride'
The sky cleared up a little for a few minutes while we were under 'The Bride'

We then headed back into town for some fuel and dinner at Pasta Jays. We fought through the traffic and crowds as quickly as we could and got out of town. We still had some daylight left, so we headed down to Mineral Bottom for some photos as the sun was going down.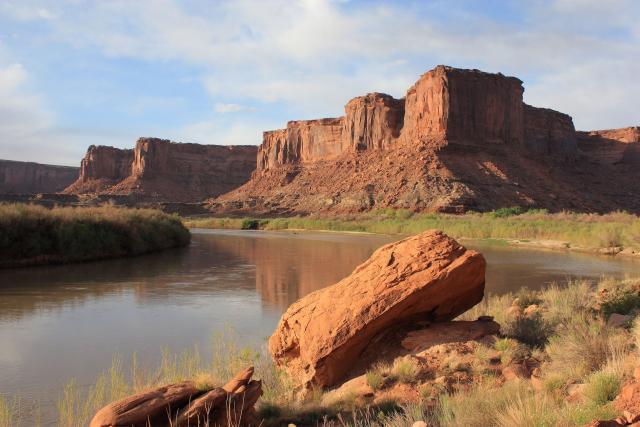 Amanda at the boat ramp

Reflection in the Green River

Headed back up the Mineral Bottom switchbacks

We made it back to our camp just after dark, and went to bed early.