Sunday, April 25, 2009
On Sunday, Amanda and I got a really early start. We were both wide awake at 6am, so we broke down our camp and were on the trail before 7am. Our destination this morning was to run the full 3D trail, so we made our way over to Hidden Canyon.
Entering the sandy Hidden Canyon

Great scenery in Hidden Canyon

we soon exited the short Hidden Canyon and started making our way over to the Hidden Canyon Overlook.
Lunar Canyon

There were a couple of large expanses of slickrock to cross, but luckily these sections were marked well and easy to find our way across. There was only one section where I was required to get out and scout for the trail.
Nice view into Hidden Canyon

Amanda took this photo of me

Hidden Canyon Rim Arch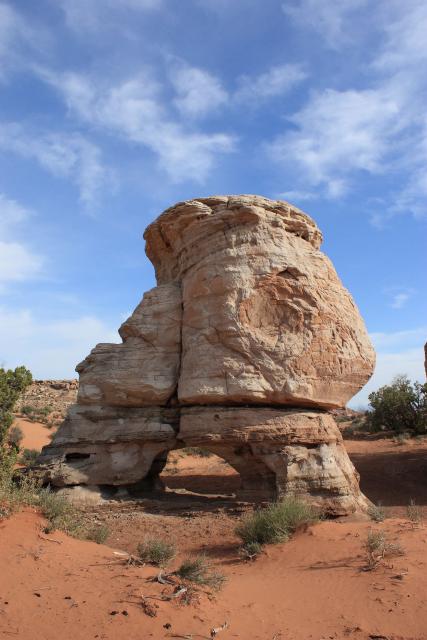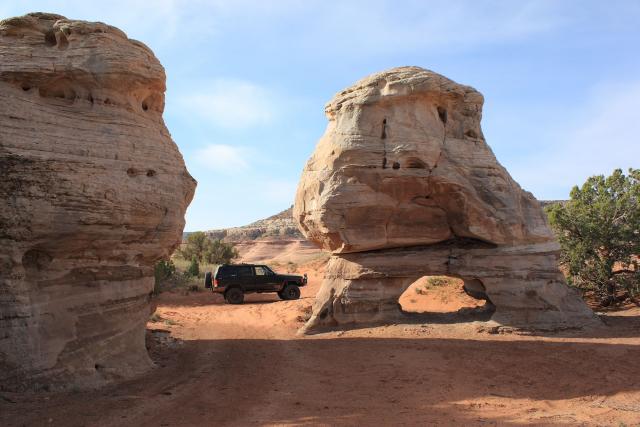 After leaving the first overlook, our next stop was the Bartlett Overlook. The trail was a bit bumpier until we made it up Mean Hill.
Mean Hill was a little narrow in spots and a little steep, but nothing difficult

My Jeep on Mean Hill with Hidden Canyon in the background

View from the Bartlett Overlook over Hidden Canyon

Because of our early start, we finished the 3D trail before 11am, so we had plenty of time to check out some other trails on our way back to town before heading home.
Last year when we went to Tower Arch in Arches National Park, the trail to Eye of the Whale Arch was washed out and closed, so I was not able to drive it. I heard a while back that the park repaired the trail and it was open again, so I figured we'd give it a try now. We headed north on 191 and took the Salt Valley Road into the park and turned off on the Tower Arch trail.
Instead of heading to Tower Arch, we hung a left and headed for the Eye of the Whale Arch.

Landscape near Eye of the Whale Arch

A few Eye of the Whale Arch photos

After hiking to the arch, we finished off the trail and headed out of Arches back to Moab. We grabbed a bite to eat and headed back home via the Gateway-Castleton Road and Unaweep Canyon. Another great weekend in Moab in the books 🙂