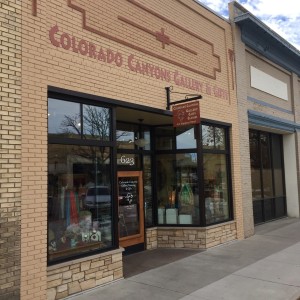 Since I've already made the big announcement on Facebook and Instagram earlier this week it's probably a good idea to also share it here on my blog. I have been invited to join and share my photos at the Colorado Canyons Gallery located on Main Street in downtown Grand Junction. I brought over my first batch of photos last week and they are now hanging in the gallery. I'm really looking forward to having a physical location here in the Grand Valley to display and sell my photos and am looking forward to working with the gallery. If you are ever visiting or passing through Grand Junction, make sure to stop in and check out all of the beautiful artwork on display. The gallery is planning on some big events in the near future, so stay tuned for other announcements!
The gallery is located at 623 Main Street and their website is www.ccgal.com.
Below is a quick iPhone photo I took of my initial photos on display at the gallery. I am currently ordering more photos to add to the collection.