Fall Colors 2017 | No Thoroughfare Canyon
Monday, October 16, 2017

Beautiful desert fall colors in No Thoroughfare Canyon within the Colorado National Monument.
No, the big canyon located at the east end of the Colorado National Monument hasn't had a name change, it's still named No Thoroughfare Canyon. But since I went on a short hike into the canyon this evening to check on the fall colors of the cottonwoods, I thought it was a fun take on the name. I try to head up into the Colorado National Monument each October to catch the cottonwoods changing colors, and as you can see from the photos below they were coming along nicely!
A lone yellow cottonwood leaf on cracked mud in the wash.
Following the No Thoroughfare Canyon Trail under a canopy of yellow cottonwood trees.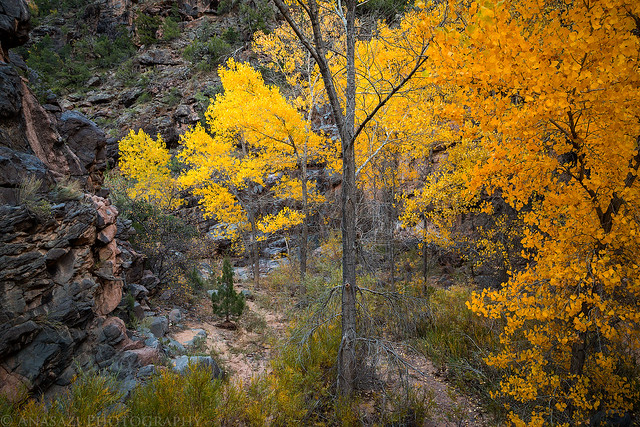 Colorful stripes on the wall at the First Waterfall.
The cottonwood trees below the First Waterfall always put on a nice display. Looks like I almost caught them at peak color this year.
A little camera movement while photographing the stripes on the wall of the canyon.
Colorful trees right in the middle of the wash during my hike back out.
A beautiful array of colors.
A view of the cottonwood near the First Pool with a reflection in a muddy pothole.