Saturday, September 12, 2009
On Saturday I headed to the San Juan's for a day trip. My goal was to explore a few trails along the Hurricane Pass trail that I had not been down before. The weather wasn't the best as the skies were full of clouds most of the day. I even had a little off and on again rain and snow.
I started out by making my way into the area via Corkscrew Pass.
Once at the top, I took a right up a trail I had passed a number of times but never followed before. It ended up circling part of Red Mountain #1 to an overlook of Red Mountain #2. There were a few nice overlooks along the way.
After making it back to Corkscrew Pass, I continued on and took a left into Gray Copper Gulch before reaching the Hurricane Pass Road.
This ended up being a short trail that ended at private property.
On the way back out, I stopped and took some photos of this very cool gulch.
When I reached the Hurricane Pass road, I took a right and headed down to Gladstone. My next area to check out was a few spurs in Minniehaha Basin.
I was quickly up in the basin where I reached a 3-way intersection. I started out taking the right fork. This one passed a few private cabins before dead-ending at what looks like an operational mine.
The middle fork ended up taking me higher into Minniehaha Basin where it quickly dead-ended at another old mine.
The left and final spur was much more interesting. It first went to another mining structure, where I thought it was going to dead end.
When I reached the old mine, I was happy to find that this trail switchbacked up the mountain and over into North Fork Gulch, which it circled and ended at another mine and high overlook above Cement Creek Gulch.
There were a few old buildings along the way

At the overlook

Another cabin hidden high above the trail

After I headed back down, I started my way back up towards Hurricane Pass.
The next spur I followed on my way to the pass, ended up heading up towards Hurricane Peak. This was a high overlook over California Gulch and pass. It would have offered great views on a clearer day.
Hurricane Peak in front of me

The busy California Gulch below

California Pass below

Headed back down

There were also some good views down into Eureka Gulch and the drained Lake Emma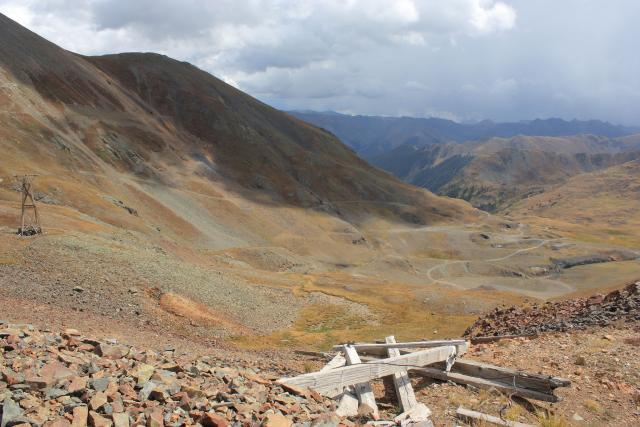 The trail back down to Hurricane Pass road

Corkscrew Pass in the distance

Before making it up to Hurricane Pass there was one more trail on the left that headed into Alaska Basin.
This trail ended at an overlook above Poughkeepsie Gulch.
There was a group of Hummers below fixing one of their trucks.
There was one spur that left off this trail, so I followed it.
Unfortunately, it dead ended pretty quick. It appears to have gone down to Poughkeepsie Gulch at one point, but the road down is long gone.
Headed back to Hurricane Pass

Finally made it to Hurricane Pass where I was hoping to get some good photos of Lake Como, but the weather did not cooperate.
After a quick lunch I made my way back to Corkscrew Pass to head back to the highway to head home.
Made it home in time for dinner and to get some stuff done around the house 🙂