Saturday, July 11, 2009
On Saturday morning Amanda and I headed down to Silverton. After setting up camp we made our way down the road that leads from Silverton to Animas Forks that we have traveled many times before. In the past we have explored a bunch of the side trails off of this road (Cunningham Gulch, Eureka Gulch, Picayune Gulch & Placer Gulch), however there were a few that either I have not checked out before, or that were blocked by snow when I attempted them. Our goal for this day was to check out the rest of those trails.
We started off in Arrastra Gulch. This was a quick one, as it appears that the trail now dead ends at private property pretty quickly.
Look up for the tram at the start of Arrastra Gulch

There still are some nice views from this short trail

Before heading back out to the Animas Forks Road, we took the trail up to Little Giant Basin.
Headed up to Little Giant Basin

Tram tower

Sealed up King Solomon Mine portal

Big Giant Mill

Gold Lake at the end of the trail

On our way back down, we stopped to check out the Black Prince mining camp.
After making it back down, we headed over to our next destination: Maggie Gulch.
Headed up into Maggie Gulch

Looking back

Some ruins at the end of the trail

Stopped by this waterfall on the way back down

Our next destination was the next gulch north; Minnie Gulch. Amanda drove my Jeep on this one, so I could relax.
Caledonia Mine boarding house

Cabins along the trail

Further up Minnie Gulch

Waterfall along the trail

Two-track at the end of the Minnie Gulch trail

Burns Gulch was our last side trip before reaching Animas Forks.
The trail up to Burns Gulch

Burns Gulch

The trail passed a few mine shafts

End of the road

Animas Forks off in the distance

Lots of flowing water in this gulch

Headed back down

Before heading back towards Silverton to finish the last trail along the Animas Forks Road we hadn't been on, we stopped at Animas Forks again to take some more photos. Here's a few…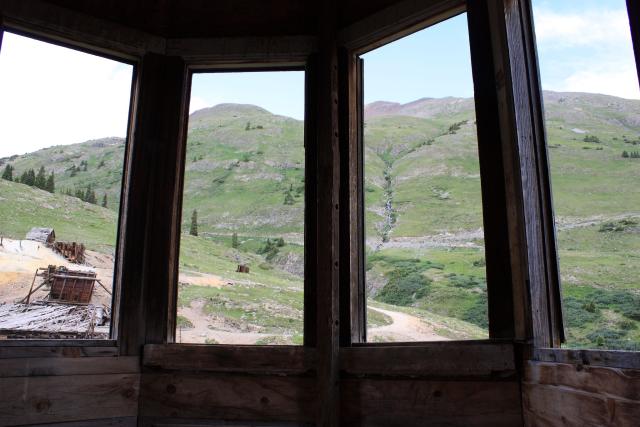 Before heading back to Silverton, we had one more trail to explore. This one was right outside Silverton and headed up Swansea Gulch. It turns out the most interesting parts of this trail were right at the beginning, but it was still a nice steep drive to the sudden end of the trail.
Much of the trail looked like this. It was steep much of the way and never got above tree line, so there were no good views down onto Silverton.

The one open spot near the end of the trail

Lackawanna Mill with Silverton in the background

Animas River

After having dinner at Romero's we still had a little daylight left, so we headed up to Clear Lake.
Amanda took this one