Saturday, January 17, 2009
On Saturday I headed out and met up with Derek and his friend Jay in a TJ at Crescent Junction. Our destination was the Yellow Cat area north of Arches National Park to explore some old Uranium mines. This is an area I have wanted to explore for a while, and I was not disappointed. However, I think I will need to head back after the snow melts off, since it was difficult for us to keep track of where the trails went, and we spent a lot of time hiking ahead to figure out where we were 😉 We did end up finding a few mines, plus we got to play in the snow!
After playing around in the snow for a while, and getting lost a few times we finally found our first mine. Turns out we had found the Lucky Strike Mine. There were a lot of old mines to explore here.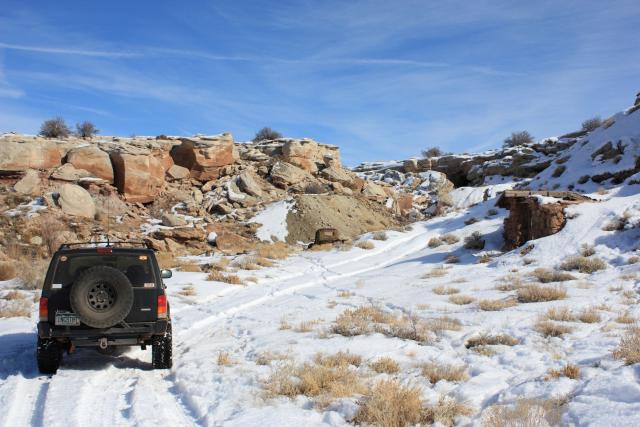 There were a bunch of numbered mines in the area. Number 15 was the biggest one we found and was pretty cool inside. The floor was full of water which was frozen solid near the entrance of the mine, but got thinner the further back you went.
View down from mine #15
After exploring the Lucky Strike Mine area, we had some lunch and then continued on our way towards Highway 128. We eventually made our way to Owl Draw Road which brought us by another mine I had stopped by back in October when I ran the Dome Plateau trail.
…and here's Derek's 'engine with a view'
After exploring these cabins and the mine it was getting close to sunset so we finished off Owl Draw Road and hopped on part of the Kokopelli trail which took us back to Highway 128. From there I headed through Cisco and then back home. It turned out to be a great day of exploring, as usual!